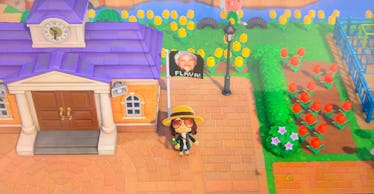 10 Clever 'Animal Crossing' Flag Designs To Download For Kicks & Gigs
Sarah Caruso/Nintendo
If you were lucky to score a Nintendo Switch and Animal Crossing: New Horizons in the past couple of months, then you likely spend most days rearraging your island and making deals with other users who have the native fruit you need. Next to your to-do list, you have another list that is dedicated to things you want to do in the beloved game such as take down Tom Nook (Don't we all?) and switch out your flag. To check that item off, you need some clever Animal Crossing flag designs.
After all, your island is too special for you to settle with one of the basic designs or colors. Yes, they may match the gardens in front of your cute cottage perfectly or catch the eye of your favorite villagers. But, a clever flag that celebrates Guy Fieri, speaks to your real-life love for Disney, or sparkles like the night sky may make you the Animal Crossing champ of your friend group. When your besties come to visit your virtual space, they'll be in awe of what you've done in such little time and ask you ecstatic questions like, "Where did you find that flag? It's incredible!"
They'll take down notes on how you scoured the web for a QR code, and used the Nintendo Switch Online app to import the image into the video game. Then, they'll save some of these sweet and clever Animal Crossing flag designs for themselves, head to their NookPhone, and make the fun change for kicks and gigs.