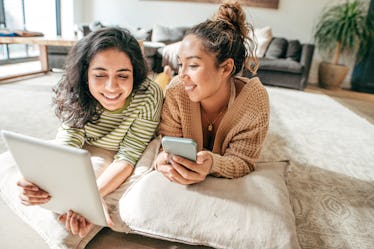 10 Virtual Bachelorette Party Games For Good Times With "Team Bride"
kate_sept2004/E+/Getty Images
The word around the group chat is that you're throwing a virtual party for your BFF's bachelorette. So far, you've sent out adorable invitations to the guests with a link to the Zoom or FaceTime chat you'll be tuning in to. You've also gathered up packs of confetti, and jotted down some stories about the bride-to-be from when you were kids. Now, you only need some virtual bachelorette party games for good vibes and times with "Team Bride."
Ideally, you'd like to find some games that aren't too cheesy, and won't lead to a lot of questions or confusion. When you've gone to parties in the past, you may have played "Say Yes To The Toilet Paper Dress" and taken a quiz to see how well you know the almost-married couple. But, you want to track down an activity that's new, exciting, and easy for your friends to participate in ~virtually~. You don't want there to be any awkward silences, and for everyone to enjoy themselves and make tons of new mems.
Stop scrolling through Pinterest, OK? The games you're looking for are right here and they're made for you and "Team Bride." Print out any of the #necessary printables, and distribute any rules or guidelines that need to be shared ahead of time. Then, get ready to have the party of your bride-to-be's dreams.