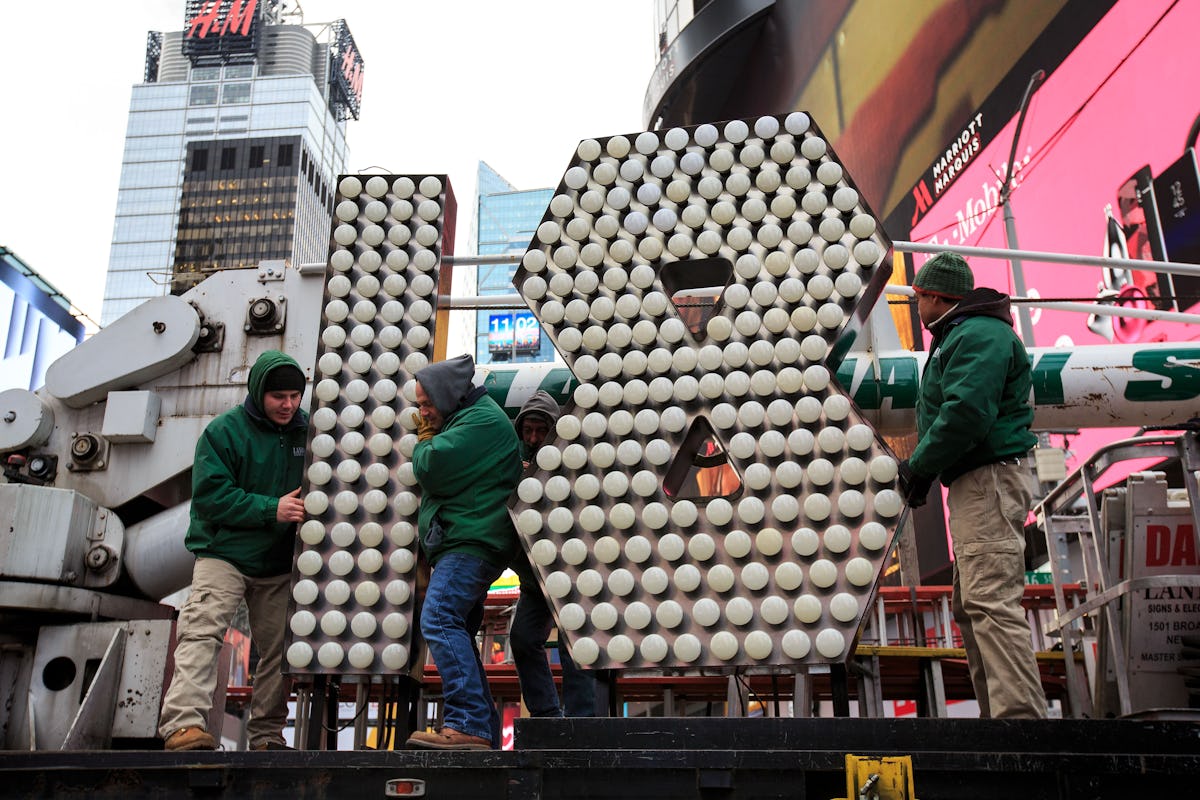 8 Things To Leave Behind In 2017 To Make 2018 A Better Year
Drew Angerer/Getty Images News/Getty Images
As the month of December comes to an end, there is a sense of relief filling the air, after having endured the insanity that was 2017. January marks one year since President Donald Trump took office, and therefore marks one year since the country seemed to spiral out of control. If there's one thing to feel relieved about at the end of this year, it's that it's over and we're alive. 2017 scoffed at the word "impossible," and left people constantly asking the question, "Did this really happen?" While much of it seemed like chaos, 2017 is also a year marked by significant and historical progress. As a nation, we have furthered conversations and started addressing topics that challenge our country's very foundation. There's great momentum that must be carried over into the new year, but there's also at least 8 things we can leave behind in 2017 to make 2018 a sane one.
First, let's collectively leave behind the silencing of sexual harassment victims.
If 2017 is notable for anything, it's the silence breakers. The #MeToo movement erupted on social media and empowered women all over the country and internationally to share their stories of sexual harassment, crossing over a number of industries and outing the most powerful men in them. Staying silent or turning a blind eye is not part of the plan for 2018. Let's leave behind the Harvey Weinsteins, Bill O'Reillys, and Matt Lauers of our industries, but let's take the momentum from the #MeToo movement with us.
Second, we can leave behind Twitter trolling.
Much of 2017's chaos derived from social media moments. Let's leave behind Twitter trolling, because if we've learned anything, it's that sometimes Twitter only creates more political divide, rather than political discourse. We've even seen Russians trolls use social media accounts to divide the nation. An evolved approach to social media can promote conversation and more positive movements. Our country is polarized enough, so let's cool it with the Twitter feuds next year.
With that being said, let's leave behind pointless, viral movements.
I don't know about you, but I don't want to open my Twitter feed in 2018 to people destroying Keurigs for Sean Hannity again. Destroying Keurigs is a waste of time and money. Let's stick to social movements that have substance, and do away with the trivial ones.
Let's leave behind "Fake News" — and by that I mean the term.
"Fake News" is not good enough for 2018. Do your own research to have an educated opinion on current news. Let's not take President Donald Trump's word (have we ever?) for what is truth and what isn't until we've done the work ourselves.
Let's leave behind the glorification of mass shooters, and focus the conversation on gun reform.
The more tragic parts of 2017, like the Las Vegas shooting, or the Sutherland Springs shooting, can never and shouldn't be forgotten. The Sutherland Springs shooting marked 307 mass shootings in 2017 alone, with Las Vegas being the deadliest shooting in U.S. history. But what we can leave behind is having the wrong response after a shooting happens. Let's stop diverting the conversation to the shooter, and focus on gun reform. Compromise has been nearly impossible in Congress this year, so much so that our government almost shutdown. If 2018 involves compromise and problem-solving, maybe it will mean less tragedy.
Let's leave bigots, racists, homophobes, misogynists out of 2018.
Need I say more? I mean, it's 2018.
Can we leave behind the denial that humans cause climate change?
A mere 31 percent of Republicans in each congressional district believe that humans are causing climate change, but half of them still think climate change is still happening. On Dec. 7, National Geographic released a disturbing video of a starving polar bear that went viral and caught the attention of millions of people. 2018 is time for a wake up call; we have something to do with the heating of the planet, so let's do what we can to fix it.
Last, let's forget about not voting in 2018.
Some important elections are happening in 2018, and now is not the time to opt out on voting. After a Democratic won in Alabama's special election, everything is really up in the air for other states. The 2018 midterm elections are crucial because they have the potential to flip the majority in Congress, entirely affecting what laws get brought to the floor and passed. It's vital that we all cast a vote to elect representatives and leaders that we want to sit in Congress.
2017 might be a year you want to forget altogether, but then what was the point? Instead, let's learn from our lessons and continue to do better next year. In 2018, let's be on the right side of history.