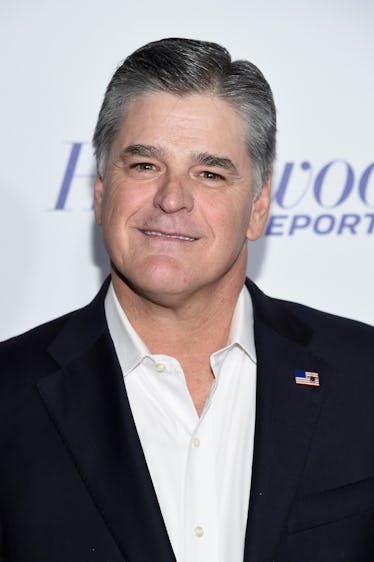 Here Are Some Videos Of People Destroying Keurigs For Sean Hannity, If You Needed That
Dimitrios Kambouris/Getty Images Entertainment/Getty Images
The latest viral Twitter hashtag has gone above and beyond aggressive 280 character tweets and moved on to videos of people destroying Keurigs for Sean Hannity. Why, you may be asking? The #BoycottKeurig trend started after Keurig pulled their ads from the conservative TV host Sean Hannity's show, at the request of Twitter users who tagged Keurig in tweets, asking them to reconsider their sponsorship.
The backlash against Hannity started on Friday, Nov. 10, when Hannity interviewed Alabama Senate candidate Roy Moore on his radio show. Moore, who is in the Dec. 12 special election race for Alabama senator, has recently been under public scrutiny after multiple women alleged Moore initiated sexual encounters with them as minors, as first reported by the Washington Post. Moore defended himself against these allegations on Hannity's show, thus sparking debate for any company in association with Hannity — leading Keurig to pull advertising, they announced on Twitter on Saturday, Nov. 11.
While Hannity has been receiving backlash for the Moore interview, many conservatives have taken to Twitter to display their support for Hannity by destroying their Keurigs. Many of them argue that Hannity did not support Moore, but simply had him on the show to ask him questions. Regardless of his intentions, conservatives are wasting coffee as a bold symbol of unwavering loyalty, I guess?
To further fuel the fiery boycott, Hannity tweeted on Sunday evening, "Deplorable friends, I am buying 500 coffee makers tomorrow to give away!! Details on radio and TV. Hint; best videos!!"
And thus the video of Keurigs getting destroyed hit the internet. These videos were not only a direct attack on Keurig, but, for some, an attempt to "offend liberals."
This didn't stop liberals from poking fun at the whole situation and participating in their own way. BuzzFeed's Jesse McLaren, for instance, took the liberty of putting Hannity's face on the office Keurigs.
While conservatives on Twitter are high in spirits about boycotting Keurig as a statement, liberals seem confused because... well, they've already bought their Keurig and given the company money.
In response to all the videos and backlash, Keurig CEO Bob Gamgort issued a memo to Keurig team members published by The Washington Post on Monday, Nov. 13. Gamgort said the company's "decision to publicly communicate our programming decision via our Twitter account was highly unusual. This gave the appearance of 'taking sides' in an emotionally charged debate that escalated on Twitter and beyond over the weekend, which was not our intent." Gamgort went on to say, "I want you to know the decision to communicate our short-term media actions on Twitter was done outside of company protocols."
Even Keurig's apology letter received a bit of backlash. Keurig called the Twitter post "highly unusual" for the company's protocol, and New York Times reporter Daniel Victor seemingly read between the lines of the memo, tweeting, "Blame it on the social media editor."
Hannity himself tweeted in response to Keurig's apology memo, saying, "Hold on to your coffee machines @keurig has recognized it got caught up & misled by a bigot. Still giving away coffee machines, which brand has yet to be determined. Stay tuned."
Both liberals and conservatives seem to have taken stabs at Keurig, whether it be for sponsoring Hannity's show in the first place, or for pulling their advertisements after said complaints. The company received backlash for responding to Twitter user's request, and has continued to receive negative attention after the memo. Keurig can't really catch a break here.
With viral situations such as these, Twitter continues to shed light on the extremely polarized and divided American public and how far they will go, (destroying their own merchandise) to "offend" the other or "take sides."