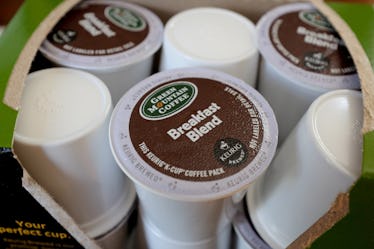 This Is Why People Are Boycotting Keurig & It's Questionable
Joe Raedle/Getty Images News/Getty Images
Those on Twitter over the weekend probably noticed yet another viral hashtag calling for a boycott. This time, it wasn't over the NFL, but the coffee machine maker Keurig. So why are people boycotting Keurig? The short answer: Sean Hannity.
The long answer is that the controversy began on Friday, Nov. 10, when conservative TV host Sean Hannity interviewed Alabama Senate candidate Roy Moore, who is in the race for Alabama senator in a Dec. 12 special election, on his radio show. Last week, the Washington Post had reported that multiple women alleged Moore initiated sexual encounters with them as minors. On Hannity's show Friday, Moore defended himself against the allegations, prompting backlash on social media. Some users on Twitter began tagging Keurig and asked the company to reconsider their ads, which were sponsoring Hannity's show.
On Friday, Media Matters president Angelo Carusone began calling attention to the ads on social media. "Good afternoon @Keurig. You are currently sponsoring Sean Hannity's show. He defends child molester Roy Moore and attacks women who speak out against sexual harassment. Please reconsider," Carusone tweeted.
Keurig responded to Carusone's callout, explaining that they'd pulled the ads. As more and more users began tweeting at the company demanding answers, Keurig continued to do damage control and address its support.
Hannity wasn't going down quietly, though. On Sunday night, he annouced his full-on support of the boycott. "I am humbled and speechless and frankly laughing my ass off. I love all my deplorable friends. Thank you and Game on!!," he tweeted. Shortly thereafter, Hannity upped the ante, tweeting, "Deplorable friends, I am buying 500 coffee makers tomorrow to give away!! Details on radio and TV. Hint; best videos!!"
A fair number of Hannity supporters rose up on Twitter in defense of the talk show host, urging their followers to call the Keurig company and boycott them. "You're going to be so unhappy you made this decision," tweeted actor James Woods.
One user took things to the next level by posting a video of himself smashing his machine. (He clarified in a later video it was all meant as a joke.) He was one of several users who posted videos of them destroying Keurigs.
BuzzFeed's Jesse McLaren was also apparently inspired by the Twitter drama.
With two shows (the TV show Hannity, which airs on Fox News, and his radio show The Sean Hannity Show), Hannity enjoys a wide — and apparently loyal — following. The boycott by Hannity supporters has resulted in a nationwide divide, and, predictably, there are many who are in full support of Keurig pulling its ads.
"Been to two different stores this morning to buy my @Keurig coffee machine & both are sold out. Clearly #BoycottKeurig is working perfectly," tweeted activist Qasim Rashid. "Thank you, @Keurig, for pulling your ads from Hannity! #DrinkKeurig, don't #BoycottKeurig!! #FireHannity #NoMoore," wrote writer and host Rachel Fine.
Keurig wasn't the only company that got targeted on Twitter by angry consumers demanding to know why they were advertising on the Hannity Show. Carusone also tagged McDonalds and SHRM for their ads.
Per Politico and Business Insider, realtor.com, 23andMe, and E-Trade had also pulled their ads. "We've received inquiries RE: advertising on Hannity. We are not running TV advertising on Hannity. We continue to closely evaluate where we advertise," tweeted the genetics company 23andMe on Friday, responding to comments.
Hannity may be painting himself into a corner by standing by his hosting Moore on his show. White House Press Secretary Sarah Huckabee Sanders said last week that, if the allegations are true, Moore should step aside on the campaign. And on Monday, Nov. 13, Senate Majority Leader Mitch McConnell announced he believed the allegations and called on Moore to end his campaign. It's unclear whether Moore will heed the advice to pull out of the race.