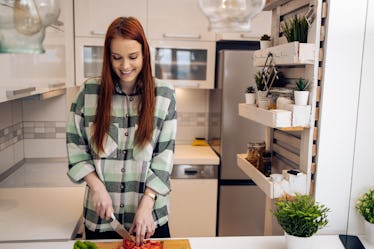 TikTokers Are Crafting St. Paddy's Day Charcuterie Boards & They're So Charming
MixMedia/E+/Getty Images
St. Patrick's Day is all about living it up with good food, fun drinks, and even better company. You know it just wouldn't be a paddy without a charcuterie board for snacking on. In honor of the holiday, you need to check out some St. Patrick's Day charcuterie boards on TikTok. TikTokers are putting together themed boards with treats like Irish cheeses and green-colored vegetables that are not only festive AF, but totally Insta-worthy.
Before assembling, check out a few other St. Patrick's Day charcuterie boards for inspiration. It may just help you figure out which direction you want to take your board in. For instance, you could go all green with your theme, and put together a color-coordinated board that matches your #OOTD. Or, if you'd like to stick with some traditional Irish foods, you can have a board that includes noms like soda bread and corned beef. It's really up to you and whatever you want to be snacking on while you're drinking a green beer (if you're 21 and up).
You may have a few ideas already in mind, but these eight St. Patrick's Day charcuterie boards on TikTok will be the final inspiration you need to make it all possible. That way, you're ready for a shamrockin' good time.