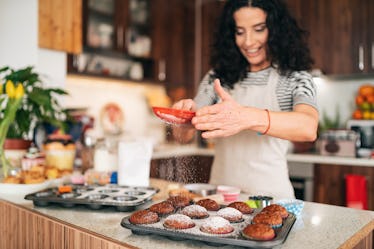 These 7 TikTok Desserts Will Totally Strike Gold On St. Patrick's Day
valentinrussanov/E+/Getty Images
The sweetest part about St. Patrick's Day is obviously the festive treats. The best ones are always unique, easy to whip up, Insta-worthy, and of course, decorated in gold and green. If you're looking for some new recipes that follow this criteria to shamrock your housemates' world, well, you're in luck. These St. Patrick's Day desserts on TikTok tick all the boxes to make sure your dessert spread strikes gold.
You'll find there's a St. Patrick's Day dessert on this list that can cater to all your housemates' tastebuds. Looking for something sweet and salty? There's a shamrock pretzel pop recipe calling your name. If you're searching for something full of sugary goodness, you can create a vanilla cupcake decorated in green and hiding cannoli cream inside. It's safe to say no one at the table will be expecting that extra creamy filling when they go in to take a bite. Or, if you have a roomie who loves mixing mint with chocolate, then leprechaun cookies will satisfy their sweet tooth while curbing their peppermint cravings.
Your sweet treats will go down in St. Paddy's Day history once your roomies taste how yummy they are. Before you and your crew polish off the plate, be sure to snap a video showing off your festive delights so you can unveil your St. Patrick's Day desserts on TikTok, too.