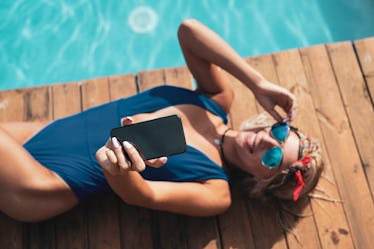 8 Selfies To Snap At Home That Appear You're Home Sweet Someplace Else
ArtistGNDphotography/E+/Getty Images
Chances are, you're running low on travel content that looks dreamy and adventurous for the 'gram. Here's the deal, though: Right now is the perfect opportunity to stage a photoshoot and get super creative at home. You don't need a vintage film camera or tripod in order to seize this opportunity, just some unique ideas for selfies to take at home that appear you're someplace else.
You may also want to collect props from around your space like a coffee mug, a rolling rack, or a bunch of potted plants. They'll help set the scene and make your followers wonder, "Wow, where are they?!" But, other than those few items, you won't need much. Your followers will likely look at your photo and believe you're lounging in a luxe hotel in the city or sipping espresso at a bistro at first glance. After pausing to read your telling caption that says, "Can we make this reality, please?" they may realize that you're at home and transformed your bathroom, kitchen, or living room.
In turn, they may try to get creative in their own space and make their closet look like a colorful dressing room of a store, or their patio seem like a poolside hangout. Pass along these selfie ideas to them once you have taken and posted your own on Instagram, and theoretically gone someplace else.