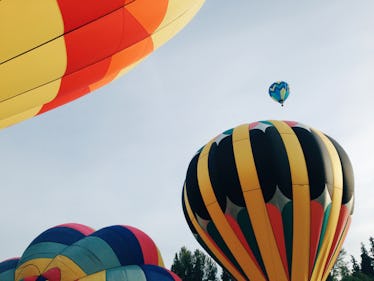 8 Dreamy Pics Of Balloon Festivals That'll Take Your Wanderlust To New Heights
Kevin Gilgan/Stocksy
The sky isn't even the limit. When we're craving an adventure, what we're really looking for is a change of perspective. Traveling gives us a whole new set of surroundings, and lets us see the world from an entirely different set of eyes. It's no surprise that when the wanderlust hits, you absolutely have to do something about it. No matter how much that plane ticket costs, you have to just go. Maybe someday, though, you won't hop on just a jet or a train. Instead, you'll channel your favorite scenes from Up in a hot air balloon. These pictures of balloon festivals will make you want to take your travels to new heights, and get your head amongst the clouds.
It's time you seriously start considering your summer plans. OK, yes I know we're all still sort of waiting for spring. But, it's never too early to get your ticket to one of these festivals, and I promise, it will be incredibly worth the wait.
Maybe you get to the grounds early and watch the sunrise launch, or stay until sunset when the balloons really illuminate like giant lanterns. The fire that rises them into the sky makes for quite the light show. If you're feeling extra daring, you might even hop in the basket yourself. Next stop, Paradise Falls? Yes, please!
These hot air balloons are beaming and oh-so-peaceful, too. We don't always have to be down to Earth, and so let these pictures give you and your wanderlust a serious lift.