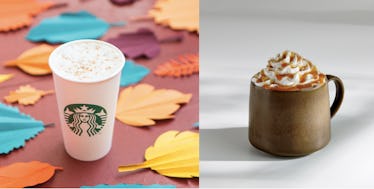 These Super Caffeinated Starbucks Fall Drinks Will Keep You Energized This Season
Aside from Halloween, Thanksgiving, colorful foliage and (finally) cooler weather, my absolute favorite part of autumn is Starbucks' seasonal fall menu (I know, it's basic, but what can I say?). Anyway, Starbucks' fall menu contains a lot of tasty treats, and it's safe to say that each and every drink on there always manages to brighten up my morning. As things at work tend to pick up right before Thanksgiving and the winter holidays, however, a little extra caffeine is definitely necessary. So, if you prioritize your coffee runs like I do, here are 8 of the strongest Starbucks fall drinks, ranked to help you wake the heck up.
While Starbucks' fall menu tends to vary flavor-wise (yes, it's not all pumpkin spice up there), it also varies tremendously on the caffeine scale. Many of these boast an impressive amount of caffeine, however, some drinks are far lower on the caffeine spectrum. Since caffeine is hella important (to me, at least), I've taken the liberty of ranking each and every one of them, starting with the most caffeinated options, leading down to the least caffeinated. Check them out — when those pre-holiday work weeks arrive, you'll definitely be happy you did.