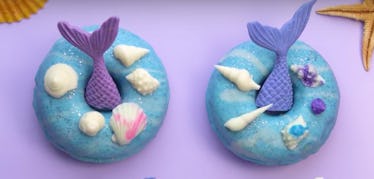 8 Mermaid Treat Recipes You'll Want To Dig Your Dinglehopper Into
It's time to make a splash in the kitchen and try some new recipes. If you're in the mood for something sweet, you might want to dive into these mermaid-themed dessert recipes on YouTube. Not only are these treats super cute and Instagram-worthy, but they're perfect for a beach bash, backyard summer gathering, or your next girls' night in where you watch The Little Mermaid.
Instead of serving your go-to treats, whip up something that'll have your guests exclaiming, "Shell, yeah!" When you think of mermaids, you likely think of pretty shells, glistening scales, and the salty sea. Each one of these mermaid-themed desserts captures that theme. From whoopie pies to PopTarts, these aren't your typical desserts like cupcakes and cookies, either. They cover a wide range of treats that can give you a full spread that's full of sugary "whozits and whatzits galore."
Since each one of these desserts is made to resemble a mermaid, it's ready for its close-up, so remember to take a pic before taking your first bite. Use some mermaid puns or Little Mermaid quotes to caption your foodie pics before posting for all your friends to sea. Then, enjoy whatever treats you mermaid for your bash.