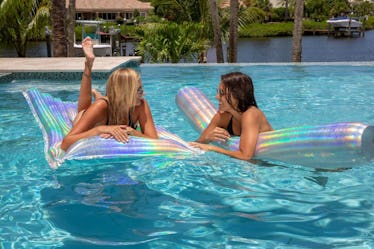 These New Holographic & Glitter Floats Will Put You In A Major Summer #Mood
Summer is almost here, which means you need to update your pool float collection as soon as possible. Having a large inflatable to bring to the party is just as necessary as a pair of vibrant sunnies and a fun swimsuit. You want to be ready for the 'Gram at all times, while also prepared to lounge around without a care in the world. Both will be much easier to do with PoolCandy's new holographic and glitter floats.
PoolCandy expanded their holographic collection to include some new inflatables, and their glitter collection has a few new adorable creatures as well. With various styles in each collection, there's a float to match your mood. So if you're going for chill vibes this summer and want a traditional pool float with a pillow attached, go with a holographic lounger. If you want something to pop in your pics, choose a cute animal like the glittery swan.
The best part about each collection is that they are available now — which means you can order one today and be ready for anything as soon as the sizzling season hits. After all, you can never be too prepared for when those beach and pool party invites begin to roll in.