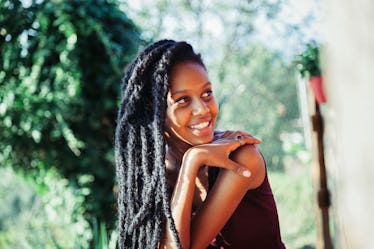 Try To Do These 8 Little Things If You Want To Let Stress Roll Off Your Shoulder
Some days are so packed to the brim with stress that when I finally get home and try to relax, it seems almost impossible. Between anxiety-inducing stories in the daily news cycle and the stress of a fully loaded to-do list, cultivating a sense of calm can prove to be a serious challenge. Personally, meditation has been life-changing in helping both my body and my mind chill out a little throughout the day. These little ways to reduce stress, like practicing mindfulness, are so important to find and create in your own daily routine, and lucky for you, I've rounded up some of the best suggestions that experts have to offer on the subject.
The thing is, if you feel like life in general has gotten more stressful in the last year or so, you're not wrong: The latest results of Gallup's Negative Experience Index, which tracks people's reported negative emotions across the globe every year, showed that, in 2017, stress levels were worse than they'd been in a decade. Nearly 40 percent of people surveyed said they experience "a lot of worry or stress," up two percentage points from the year before, according to the report. In other words, pretty much all of us could use some tips on how to dial down our stress levels.
While all of these suggestions are recommended by experts, keep in mind that they may not work immediately, or they may not work for you at all. Take some time to see what works best for your individual body and mind, and if need be, don't hesitate to explore other, more professional mental health resources.
"I would encourage [you to] try a stress relief activity three times before you give up on it," Dr. Helen Odessky, a licensed clinical psychologist and author of the book Stop Anxiety from Stopping You, tells Elite Daily in an email. "If you are in a constant state of stress, your body will often resist practicing relaxation," she explains. "Trying it a few times gives you a chance to truly test it out."