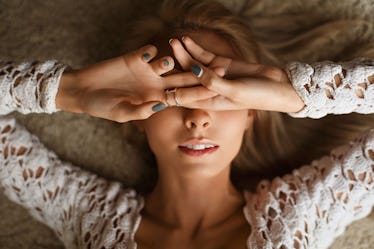 If You Feel Stressed AF All The Time, You'll Find Comfort In These 6 Everyday Things
You know how, when someone asks how you're doing, the almost automatic response is "good," "fine," or basically anything neutral-sounding that cuts the time you spend engaging in small talk by half? Well, as much as I think you and I should feel comfortable being completely candid about how we're actually feeling in any given moment, it's also important to find ways to ease whatever bad vibes you're feeling. According to the American Psychological Association's (APA) findings, millennials are hella stressed, and it's no secret that if you don't implement everyday things that relieve stress into your routine, the anxiety you feel is bound to build and, eventually, overwhelm both your body and your mind. So now that I think of it, I probably don't even have to ask how you're feeling because, if the APA's research means anything at all, I think I might already have an idea.
Per the APA's annual Stress In America Survey, conducted by Harris Poll in August 2017, millennials have the "highest reported stress levels," with things like the state of the economy, personal finances, and health care all triggering anxiety. Lucky us, right?
This shouldn't come as too much of a shock, though, considering millennials definitely have it kind of rough, coming out of college with mounds of student loan debt and the pressure of a very competitive job market weighing on their shoulders. Still, just because times are tough right now, that doesn't necessarily mean your mental health has to suffer, right? Plus, according to new research, the way you handle everyday stressors could be pretty consequential for your long-term well-being.
Researchers from Cornell University performed two experiments, the results of which have been published in the scientific journal Proceedings of the Royal Society B, to see how stress affected tree swallows in the long run. Now, I know what you must be thinking: What the heck do birds have to do with how humans respond to stress? Well, according to the researchers, all animals with a vertebrate respond pretty similarly to stress. So, in order to find out if stress really does affect your health in the long-term, ScienceDaily reports, the team dissolved a stress hormone called glucocorticoid into a gel, and applied the gel onto the swallows' eggs to see how the bird responded when the hormone absorbed into their skin. The results showed that swallows that internalized stress fed their babies less, proving that short-term stressors really can have long-term effects.
For their second experiment, the researchers captured swallows, documented their stress levels, and let them go, only for the birds to then be exposed to the same stress hormone in the first round of the study. Once the hormone was absorbed, according to ScienceDaily, the team analyzed how much time it took for the birds' stress levels to fall. In the end, their findings showed that birds that were "more naturally stress resilient are those that are better able to turn off this response," lead study author Maren Vitousek, an assistant professor in the Department of Ecology and Evolutionary Biology, said in a statement. In other words, those who can't handle stress that well in the moment, will most likely feel the negative effects of that anxiety in the long-term.
So what does this all mean for you? It's actually pretty simple: The more you learn to adapt to and work through stress, the less your body and mind will suffer in the long run. The key is to find ways to de-stress a little at a time, and to do so, here are a few everyday stress-busters to utilize now before you reach that boiling point later.