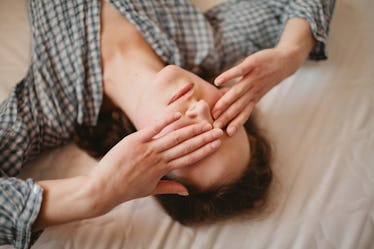 11 Weird Things That Relieve Stress & Make You Feel More Relaxed In Seconds
If you don't take care of it, stress can turn into an ongoing, toxic cycle. You're super stressed about work, or your friendships, or your relationship, or all of the above, and since you don't always immediately know what to do about it, you get even more stressed out, and the cycle just keeps going and going. Honestly, trying a few random, weird things that relieve stress is probably your best bet if you feel like you've already tried everything you can to help you relax, but have yet to see any real results.
Stress can be debilitating, there's no doubt about it. It doesn't matter if you're a student, or you're working a full-time job, or even if you're a traveling Instagrammer who posts beautiful pictures of beautiful places. Everyone gets stressed out from time to time. What really matters is whether or not you choose to cope with your stress in a healthy way, and how you choose to do so.
There are tons of free, easy, and quick ways to relieve stress instantly. You don't have to spend money on expensive workout classes, or talk your friends' ears off about the latest drama at work — unless you want to, in which case, go for it. But if you're looking to find new ways to relieve stress, here are 10 kind of random, but seriously effective ways you can instantly relieve your anxiety in a matter of seconds.