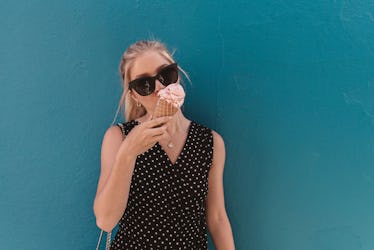 Experts Say These 5 Delicious Foods Can Help Balance Your Mood Swings, So Eat Up
When I'm feeling particularly glum, I usually start to crave comfort foods: mountains of soft bread, creamy vegan ice cream, my abuela's black bean recipe. And while I have no regrets about eating what my body's asking for, I sometimes wonder whether these delicious treats are helping to get my mood back on track, or if they're actually just making me feel worse in the long run. The thing is, there are definitely foods that can help to balance your mood swings, but they may not always be the noms you're craving in the moment. Rest assured, though, the foods that can help mellow out a bad mood don't have to be boring or unsatisfying. In fact, a lot of them are probably foods you already eat.
Of course, if your mood swings are severe enough that they're interfering with your daily life and your ability to function, make sure to check in with your doctor to understand exactly what's going on. But if you're simply looking for ways to feel a little more like Tigger than Eeyore on a gloomy Monday, Haley Hughes, a registered dietitian and certified diabetes educator, says it's all about maintaining a consistent diet. "You don't get all the benefits if you are inconsistent with following a balanced diet," she tells Elite Daily over email.
And as for what should go into that balanced diet, here are a few foods to consider.