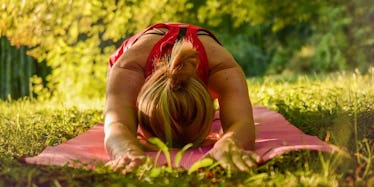 5 Stretches For Stress Headaches When All The Tension Is Knotted Up In Your Neck
Pixabay
You know the feeling when you forget you have your sunglasses on top of your head for such a long time that it literally gives you a splitting headache? What's even worse than that is when you don't have any sunglasses chillin' on your head, but you get that torturous feeling anyway, with no warning or apparent cause. The next time your head starts pounding out of nowhere, you don't have to retreat to your bed and lie in agony. These stretches for stress headaches will help you feel better in no time.
According to Mayo Clinic, a tension headache is the kind that basically feels like someone strapped a really tight band around your head. The dull, mild pain lingers around your temples, and it can be extremely difficult to shake off. While these stress headaches are common, it's still not fully understood what exactly causes them to happen.
However, some headaches are the result of bad posture and excessive sitting, a combination that can cause the muscles and joints around the top of your neck to become uncomfortably tight and stiff.
You don't have to suffer in silence or always reduce to popping ibuprofen, though. Reducing stress through things like breathing practices, meditation, and simple neck and shoulder stretches will do wonders to reduce the pain of your headaches and relieve any persistent, lingering pains.
Here are five simple stretches that will feel as blissful as taking those forgotten sunglasses off your head.