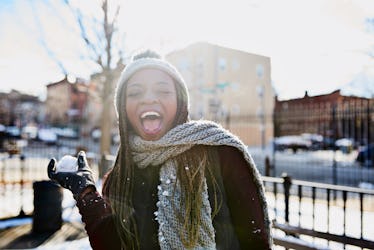 Snap These Cute Instagram Pictures In The Snow All By Your Selfie
PeopleImages/E+/Getty Images
Grab your camera and head to your backyard where you've become a photoshoot pro. Odds are, sprinkled on the ground is the best natural prop of all: snow. And although it may be cold to pick up in your hands — even with mittens on — you'll want to play around with it and these Instagram picture ideas to take in the snow.
These snowy picture ideas are a foundation for some seriously cool content and will leave you feeling inspired for months to come. They'll encourage you to head to the rooftop of your apartment building for a snowy picture with the surrounding skyscrapers, cheese in a pom-pom hat just like a little kid on a snow day, or pretend you're on the ski trip of a lifetime. Plus, unlike other photoshoot ideas, they won't require any help from a roommate, friend, or fellow camera lover. You can take these pics all by your selfie.
You may need to set your lens up on a tripod or lean it against one of your mugs that's sitting on your patio table. But, once you get creative with your setup, you'll be golden. You'll be ready to pose in fashionable boots and catch snowflakes with your pup. Without further ado, here are the best Instagram picture ideas to take in the snow.