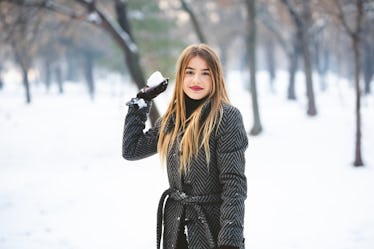 29 Winter Quotes For Your IG Bio Because Baby, It's Cold AF Outside
urbazon/E+/Getty Images
It's safe to say we're all feeling a little bit frozen. Winter is most definitely here, and for some, that means hot cocoa, snuggling, and making endless snow angels in the backyard. For others who believe sweater weather is not their cup of tea, the cold means bundling up in one too many blanket scarves. No matter how you're spending the chilliest time of the year, take some time to give your social media a snowy upgrade with one of these winter quotes for Instagram bio.
Baby, it's way too frigid outside. But, these wintery Instagram bio quotes highlight the beauty of turtlenecks, hot cocoa, and trading your usual snowboarding trips for chill nights in your living room. Due to the ongoing coronavirus pandemic, the Centers for Disease Control and Prevention (CDC) has advised postponing vacations in their travel guidelines. Staying at home with your immediate household keeps you and others safe, and significantly decreases the risk of contracting or spreading COVID-19.
The perk of being at home is that you can enjoy December, January, and February in the coziest fashion. You can watch holiday movies, sing holiday tunes, wrap presents, and get cozy for the 'gram without putting in too much effort — or having to pack a bag. Now, the season of hot chocolate bombs and snow boots won't last forever. So, embrace it by adding one of these winter quotes to your social media bio. Snow happens, and your IG deserves the magical upgrade.
1. "Some people are worth melting for." — Olaf, Frozen
2. "'Tis the season to be freezin'."
3. "Cozy vibes only."
4. "Baby, it's cold AF outside."
5. "The cold never bothered me anyway." — Elsa, Frozen
6. "In the midst of winter, I found that there was, within me, an invincible summer." — Albert Camus
7. "Sorry, not sorry for the things I say in the winter."
8. "One must maintain a little bit of summer, even in the middle of winter." — Henry David Thoreau
9. "Wake me up when it's summer."
10. "It's a winter wonderland over here."
11. "All you need are tea and warm socks."
12. "Sweater weather."
13. "Surrounded by snowflakes."
14. "Keep calm and get your hot chocolate on."
15. "Winter is coming." — George R.R. Martin, Game of Thrones
16. "Hello, winter."
17. "Welcome, winter lovers."
18. "Sleighed it."
19. "If you need me, I'll be bundled up in all the blankets."
20. "It's a cold one out there. Stay toasty."
21. "The weather outside is frightful, but the wine is so delightful."
22. "The snuggle is real."
23. "To appreciate the beauty of a snowflake it is necessary to stand out in the cold." — Aristotle
24. "Forever making snow angels."
25. "The queen of all things cozy."
26. "All is calm over here."
27. "May your clothes be cozy, your coffee be strong, and your Mondays be short."
28. "Stay snowy."
29. "Snow happens. Hot cocoa helps."
This article was originally published on