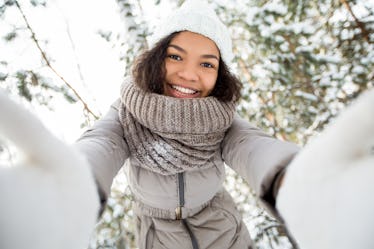 20 Instagram Captions For Winter Selfies That'll Warm Up Your Feed
Every year, we go through all of the seasons and act surprised when winter rolls around and we're freezing our bums off. It never fails, and while we can't get rid of winter, we might as well wear it like an accessory. Putting together Instagram captions for winter selfies will give you one less thing to do after you've snapped the perfect shot in the snow-filled wonderland outside.
While winter's not my favorite season — mostly due to the chilly temps — you wouldn't be able to tell by the huge smile I have plastered on my face in my wintry pics. Snow makes for the perfect backdrop, so whether you're like me, and prefer warmer weather, or you actually prefer a bit of frost, winter selfies are inevitable. Don't act like you haven't maximized the utmost effort to get a solid selfie with your beanie cap and coffee cup. I mean, you don't want all of those cute and coordinated winter outfits to go to waste, do you?
I try to think of it this way: It's hard to cherish the other seasons of the year if you don't endure the cold winter months. For the sake of spreading joy instead of misery during this time of year, post those adorable winter selfies with any of these captions.
1. "She said, I love places where it's summer in winter." — Nick Miller
2. "People don't notice whether it's winter or summer when they're happy." —Anton Chekhov
3. "It is good people who make good places." ― Anna Sewell
4. "I enjoy it when the world smiles; the more smiles, the warmer I am." ― Dejan Stojanovic
5. "To keep a warm heart in winter is the real victory." — Marty Rubin
6. "A warm smile is the universal language of kindness." — William Arthur Ward
7. "Do not underestimate the strength it takes to be the hearth everyone turns to for warmth." ― Megan Derr
8. "If it took me showing some warmth to get warmth in return, I'd do it." ― C.L. Stone
9. "A good selfie is when you successfully capture the feeling of that very moment!" ― Anamika Mishra
10. "No job is complete until the selfie is posted." ― Ashok Kallarakkal
11. "Photobomb me at your own risk!" ― Ken Poirot
12. "Simplicity is the key to brilliance."
13. "If the world seems cold to you, kindle fires to warm it." ― Lucy Larcom
14. "Winter is the time for comfort, for good food and warmth, for the touch of a friendly hand and for a talk beside the fire: it is the time for home." — Edith Sitwell
15. "Accept yourself, love yourself, and keep moving forward. If you want to fly, you have to give up what weighs you down." ― Roy T. Bennett
16. "Stay true to yourself. An original is worth more than a copy." — Suzy Kassem
17. "I intend to wear the cold like a designer bag."
18. "The only two words you should ever say to a mirror are 'Hello, Beautiful.'" ― Richelle E. Goodrich
19. "In the depth of winter, I finally learned that within me there lay an invincible summer." — Albert Camus
20. "To appreciate the beauty of a snowflake... it is necessary to stand out in the cold."
This article was originally published on