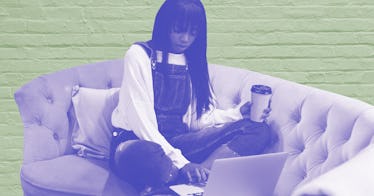 8 Funky Instagram Ideas For Taking Your Inside Furniture Outdoors
Shanelle Infante, Elite Daily
Every part of your home now serves many purposes. Your kitchen table is your office and your backyard is your personal movie theater on summer nights. You'll feel inclined to be creative and think outside of the box when it comes to having photo shoots in your backyard, too. Be extra creative, then, and scroll through these Instagram ideas for bringing your furniture outside. To be frank, your Instagram feed could use the editorial, Vogue-like content that'll come out of these eclectic photo shoots.
It's not that your backyard photo shoots of your summer picnics are boring. They've just had their moment in the sun, so it's time to lead with a new trend. As with "summer textures" pics and weekend photo dumps, these funky furniture snaps will eventually make their way through the Explore page and into the virtual folder titled, "Been There, Done That." That's why it's #necessary that you hop on this trend, and drag your mid-century modern couch, bar stools, and rolling rack into your driveway ASAP.
Set up your tripod, as well as your camera that's set to capture a photo every 10 seconds. You can stand with your props and even pretend you're in a magazine spread by replicating the same poses of Naomi Campbell or Gigi Hadid. Here are eight ideas you should use for inspo, because they'll bring your furniture and feed to life.