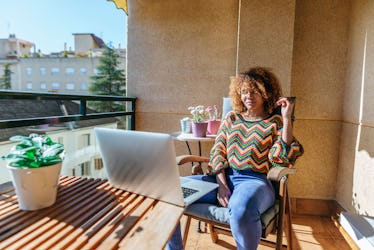 10 Fun Ideas For Your Outdoor WFH Pics & Creating Magic On Your Patio
Westend61/Westend61/Getty Images
When you first started your career, "work from home" was most likely not in your job description. Now, it's the new norm, and you're making the most of it. You've transformed your kitchen into the home office of your dreams, and you're sitting outside with your laptop every chance you can get. You might feel creative brainstorming under the funky umbrella on your patio, and taking your coffee break in the garden. To be honest, you could get used to this setup and want to document your blissful professional life with some ideas for outdoor work from home pictures.
You don't want to forget this unique time when you're typing with your feet up and getting tan while working on your assignments. When you have a spare moment on your break, how about setting up a tripod and taking some photos of you crushing your to-do list alongside your big, beautiful plants? Although they'll never replace your coworkers in your heart, they do serve as inspiring company when you're on a tight deadline, and they're a great conversation starter for Zoom meetings.
One day, if and when things get back to "normal," or when winter comes and you retreat back to your kitchen table, you'll miss chilling on a lounge chair in your backyard from nine to five. So, snap one of these outdoor work from home pictures as soon as possible. They'll surely show your followers that you're creating magic on the workday reg.