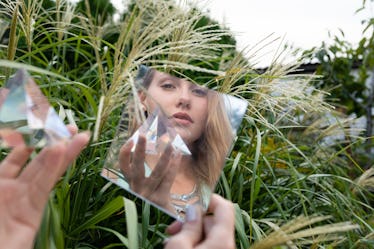 15 Cool Ideas For Outdoor Mirror Selfies That Are So Insta-Trendy RN
Dennis Aglaster / EyeEm/EyeEm/Getty Images
Pulling your circle mirror out from its designated spot in your room and setting it up in your backyard, driveway, or sun-filled patio is the latest trend on Instagram. If you haven't already seen your favorite influencers pose in their vintage gold mirrors in order to show off their #OOTD, then that would be a big shock. It seems like everyone is coming up with their own cool ideas for mirror selfies outside and letting their reflection do the heavy, creative lifting.
It's about time you joined in on the trend and added something new to your feed. Before you start shifting furniture and snapping pics for IG though, you need tips and tricks. For example, taking an awesome mirror pic outside requires some natural-looking props. These could be fresh oranges from the grocery store you've sliced up, cute flowers you can hold while sporting a new sundress or bathing suit, and the clouds if you choose to angle your mirror up to the sky. Any sort of mirror pics — but especially ones that are taken outdoors — can be taken using the self-timer feature on your device, too.
Once you know those tricks, it's time to execute some funky, totally rad ideas. Lucky for you, there are 15 listed here that will help you work with the latest trend.