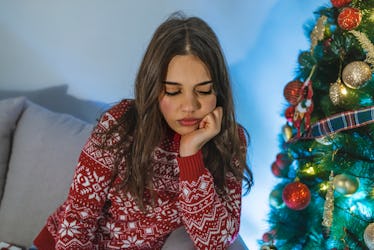 8 Holiday Breakup Stories That Are Neither Merry Nor Bright
Shutterstock
For many couples, that stretch of time between Thanksgiving and New Year's is typically filled spent stealing kisses under the mistletoe, exchanging meaningful gifts, or snuggling up to watch holiday flicks. Maybe that's why holiday breakup stories are especially heartbreaking. The season probably doesn't feel merry and bright when you and your partner have just gone your separate ways.
Holiday breakups come with all kinds of unique logistical and emotional challenges. If you planned to celebrate together, you suddenly need to come up with an alternate plan. And if you bought them a present, now you have to figure out WTF to do with it. Worse yet, every time you fire up Netflix, you face a flurry of festive rom-coms that remind you of your recently ended relationship. Don't even get me started on all the songs declaring that it's the "most wonderful time of the year." And that's on top of all the regular reasons breakups suck.
Whether you've gone through a holiday breakup yourself or are purely curious about what this experience might be like, rest assured that plenty of people have survived a split around the holidays and lived to tell the tale. Here are a handful of holiday breakup stories that will have you saying "bah humbug."