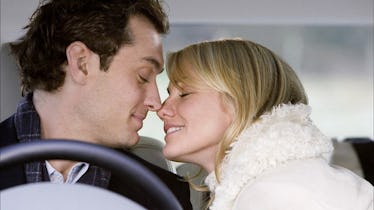 9 Christmas Movies To Watch With Bae While You Snuggle By The Fire
Sony Pictures
What's even more delightful than a good romantic comedy? A holiday romantic comedy with all the festive and cozy trimmings, of course. Cuddling up on the couch to watch endless hours of film favorites is an activity that's as integral to the season as ice skating or decking the halls, and romantic Christmas movies make the time that much more merry and bright.
We're suckers for epic and over-the-top declarations of love, predictable last minute recognitions of true feelings that end in a warm embrace, and just general Christmas cheer. A passionate kiss is one thing, but a passionate kiss in a snowy scene or a holiday themed situation just takes things to the next level. You have practically one and a half months out of twelve to really break free from from the confines of regular old rom-coms that don't always offer these seasonal perks. It's time to take advantage of the most wonderful time of the year.
Get that fire a-cracklin,' make yourself a nest under your blanket of choice, grab a decedent dessert-y beverage that would be weird to drink any other time of year, and prepare to watch some of the best romantic holiday movies out there.