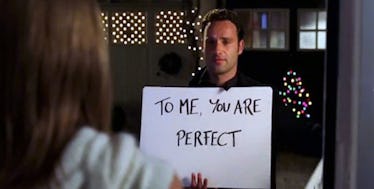 7 On-Screen Couples From Holiday Films That Teach You Everything About Love
Universal Pictures
I'm a sucker for the holiday season.
I don't know if it's the fact that a new year is about to begin, the frigid temperatures seem to encourage more cuddling or I just tend to get a lot more drunk in December. Whatever it may be, I'm into it.
As a full-fledged member of the Jewish community, I typically don't partake in any of the red and green-induced Christmas celebrations my friends revel in, but that doesn't mean I don't enjoy a good Christmas movie.
While I patiently wait for Hanukkah-centric films to storm their way to the tops of box offices around the globe, watching fictional couples fight and fall madly in love in Christmas movies has become one of my favorite traditions during my week-long holiday staycation.
But holiday flicks make finding love so damn easy.
A lot of my friends yearn for that "true love" in the movies. As for me, I'm confident I'll find love one day, whether I swipe my way to happiness or find him in the Starbucks by my office.
Still, I could use some tips. Below you'll find an assortment of lovestruck couples featured in holiday flicks that need to get out here and show us average folk how it's done.
1. David and Natalie, "Love Actually"
As one of the many romantic storylines featured in this 2003 romantic comedy, David and Natalie teach us that assumptions are never, ever a good thing.
Throughout the film, the two ignore the fact that there's a genuine natural attraction between them. This causes them more harm than good.
If you feel a spark, it's best to act on it before that one gets away!
2. Howard and Liz, "Jingle All the Way"
When he's not busy a futuristic killing machine, Ahhhhnold is a stand-up father, dead-set on doing whatever it takes to please his wife and young son around Christmastime.
If anything, his dedication is something men around the globe need to begin replicating. Just stick to "Jingle All the Way," and lay off "The Terminator."
3. Graham and Amanda, "The Holiday"
The pairing of Graham and Amanda, though they originally felt apprehensive about revealing emotions to each other, open up and end up trying to make the most of what could be a short-lived relationship.
I's OK to be vulnerable! Be optimistic! The best things can come from something you were never expecting in the first place.
4. Randy and Elise, "New Year's Eve"
Though in an ensemble cast similar to "Love Actually," Ashton Kutcher and Lea Michele shine as the couple-to-be on New Year's Eve... because they weren't a couple to begin with.
During a night where emotions run high and a lack of a midnight kiss could bring you down, "Randy" and "Elise" represent proof that it's possible to get over the dating hump.
5. Mark and Bridget, "Bridget Jones's Diary"
Plain and simple: Don't judge a book by its cover (even if it's featured in a hideous Christmas jumper).
Also, a diary is most definitely a healthy way to express your feelings. But make sure your love interest doesn't get a chance to see it. At least until a few dates in.
6. Clark and Ellen, "National Lampoon's Christmas Vacation"
The Griswolds are family dysfunction at its finest. No matter what it took, Clark and Ellen wanted to have the perfect Christmas for their family.
While things rarely turn out as they should, this loving couple shows that it's still possible to turn a disastrous situation into a bright, healthy holiday celebration. Live life, and always look on the bright side!
7. Jack and Sally, "The Nightmare Before Christmas"
Sure, a live-action skeleton would be hard to depict in real life, but the relationship between Jack and Sally is easily comparable to any guy who's too caught up in his own life (or this case, an odd obsession with Christmas) to see love right in front of him.
I promise, even stop-motion animated love is capable of tugging at your heart strings.