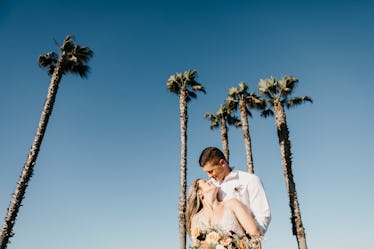 8 Most Beautiful Places To Elope In The U.S. That Are Made For "I Do"
Westend61/Westend61/Getty Images
When it comes to getting married and saying, "I do," some couples don't want anything more than each other and some quality views. Instead of writing out invitations, walking down the aisle in front of a ton of people, and slicing a cake in an extravagant venue, they'd rather grab their rings and a couple of suitcases and elope. There are so many beautiful places to elope in the U.S. made for those couples — places that are bucket list and unconventional wedding-worthy.
After seeing a few photographs of them, you might look at your SO and say, "Let's elope, too!" Or you may choose to adventure to them on your honeymoon after the romantic vows, funny speeches, and dances at the reception are all said and done. Weddings are a very personal thing; you and your partner should do whatever feels right to you and honors your relationship the best. If that means throwing a big, white wedding, then do it. If that means eloping in a national park or on the beach right at sunset, then go for it.
The decision is entirely up to you. If you're thinking of eloping, then one of these 10 spots might be the place to say, "I do." They're as magical as ever, and perfect for marrying the person you love.