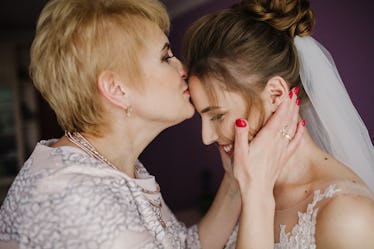 10 Heartwarming Photos Of Brides With Their Moms On Their Wedding Day
Shutterstock
Weddings obviously come with a slew of grade-A photo ops — like exchanging your vows and having your first kiss as a married couple, or tearing up the dance floor with fam and friends at the reception. But TBH, it's those photos of brides with their moms that just may take the cake (see what I did there?) when it comes to nailing you right in the feels.
There are several reasons for this. Naturally, many moms are overcome with a wave of pride and sheer joy while witnessing their daughter enter a new stage of their lives. And for daughters, who may feel a tad nervous about taking this massive leap, it can be super comforting to have their mothers nearby — not only to keep them calm but also to share some pearls of marital wisdom here and there. Some ladies have such strong bonds with their mothers, in fact, that they shun the tradition of having their father "give them away," and opt to have their mother walk them down the aisle instead. My best friend went this route for her wedding, and there was nary a dry eye in the house when it happened. It simply made sense, too, since her mother was truly the one who raised her, instilled her values in her, and helped shape her into the strong-willed, compassionate, perceptive young lady she is today.
Whether you just got married, are planning your wedding, or are single AF and just have a close bond with your mom, it's normal to get all kinds of nostalgic looking at photos of brides with their mothers. And if that's you, these images are sure to be moving.