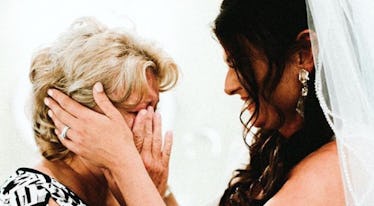 5 Photos Of Moms Walking Their Daughters Down The Aisle That Are So Incredibly Sweet
Here's a wedding ritual you don't see too often: photos of moms walking their daughters down the aisle. In fact, I can't think of any wedding traditions that explicitly call for the mother of the bride. The groom and his mother typically share a dance (much like the father-daughter dance) but what do the bride and her mom do?
Well, according to Brides, in some Jewish ceremonial processions, it's traditional for the mother of the bride, the groom's parents, and the grandparents to join in. But that's not necessarily the case for all cultures or religions.
More often than not, most of the M.O.B.'s work happens behind the scenes, like helping the bride choose the perfect hair accessory or coordinating details of the reception.
The father of the bride, on the other hand, usually plays a much more visible role in the wedding as he's often asked to walk his daughter down the aisle. Traditionally, dads have done this for two reasons. The first is to indicate that the bride is no longer her father's property and now belongs to her groom. The second, less practical reason is to scare the groom into upholding his end of the bargain. No one wants a runaway groom!
Regardless, I think we can all agree that this archaic wedding tradition is purely symbolic now, which means it doesn't have to be a dad walking his daughter down the aisle. Anyone whom the bride feels strongly about can assume this position, moms included. These five photos of moms and brides are here to prove just that.