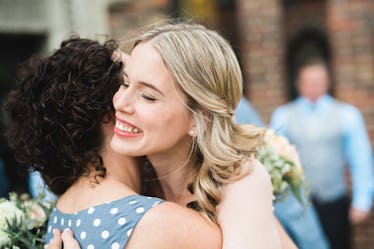 7 Things You Can Count On Mom For On Your Wedding Day
*Cue the happy tears.* You're about to get married and you seriously can't wait to say, "I do." Maybe you're having a big ceremony with all your friends and family, or something more intimate with a small group. Either way, your mom or the mom figure in your life will be one of the most important people in attendance, and you can't wait to share some special moments with her. There are some things you can count on your mom for on your wedding day, and you wouldn't want it any other way. Mom is and always will be your favorite sidekick.
Even if she's not your mom by blood, she's the lady in your life who has been there for you through thick and thin. She's stood up for you, and watched you grow up and fall in love. You've most likely relied on her to bring you to soccer practice, and steer you onto the right path when you felt lost or confused about life. When you were figuring out the real world, you felt so lucky to have her and some unconditional love on the sidelines.
She'll probably help you put your accessories on and will be beaming with pride. She will be sitting front row on your wedding day, or maybe she'll even walk you down the aisle. You've counted on her for a lot of things in life, but these seven things on your wedding day will mean the most.