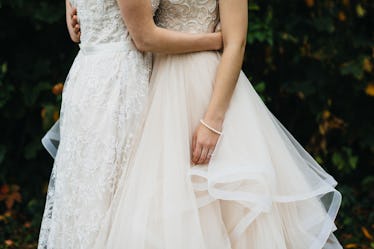 5 Ways To Make Old-Fashioned Wedding Traditions Feel Totally Fresh
There's nothing wrong with a white wedding. Classic traditions are very meaningful for some brides, especially if that practice was observed in their parents' wedding or grandparents' wedding. But not every bride wants to have something old, something new, something borrowed, and something blue. After all, many wedding customs reflect heteronormative, patriarchal values and require a nuclear family unit in order to work. Elite Daily spoke to modern wedding planners for advice on how to update classic wedding traditions, because why wouldn't you want to have a celebration that reflects your own unique family and values?
For my own wedding, I wanted to subvert as many wedding traditions as I could. I didn't toss my bouquet, I didn't wear an all-white dress, and I had a friend officiate the ceremony. Though my dad did walk me down the aisle, I felt OK with it, since I knew that my virginity wasn't being exchanged for two cows and a plot of land. (If that was the case, my handmaidens would be scandalized by my unstained bedsheets the next morning.) If you'd like to honor some wedding traditions but still want to make them your own, here are some ideas on how modernize your big day.