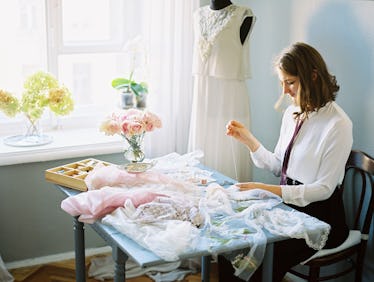 11 Creative Ways To Buck Wedding Ceremony Tradition, From Colorful Dresses To Puppy Parades
If you've always been one to dance to beat to your own drummer, you may already see your wedding as a day to let your individuality shine. From blue bridal gowns to hot wing buffets, these creative ways to buck wedding ceremony tradition are totally cute ways to make your wedding totally yours. Whether you want your wedding day to be completely unconventional or you see yourself tying the knot with a couple of unique touches along the way, dodging tradition here and there can make your wedding more comfortable for you and your guests.
Of course, tradition can be super important. If wearing your mother's veil or reciting specific religious texts mean something to you, then incorporating familial or historical customs into your wedding can be super special. Still, you day is yours. You get to remix, dress up, or dress down any wedding ceremony traditions that feel right to you. And if completely bucking tradition feels good for your and your spouse-to-be, making your wedding completely your own is a great way to say "I do."
If you're looking to make your wedding day totally special, these 11 creative ways to buck wedding ceremony traditions can make your wedding totally you.