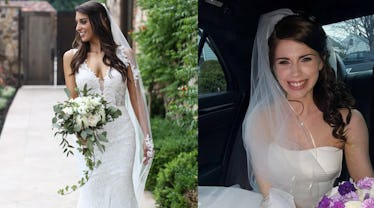 6 Newlywed Brides Reveal How They Chose Their Something Old, New, Borrowed, & Blue
Courtesy of Tina Kolokathis and Julia Guerra
Something old, something new, something borrowed, and something blue. If you've attended a wedding at some point or another, you've probably heard about this sweet wedding tradition where a bride chooses to incorporate something old, something new, something borrowed, and something blue into their wedding look. Your somethings can be tokens of love from others, family heirlooms, accessories — really, anything goes! Six newlywed brides revealed how they chose their something old, new, borrowed, and blue, and their reasons behind their choices are so, so sweet.
According to Reader's Digest, this wedding tradition dates back to the Victorian era. The Knot reports that it derives from an Old English Rhyme that reads, "Something Olde, Something New, Something Borrowed, Something Blue, A Sixpence in your Shoe." The somethings were originally symbols of good luck and ways to ward off the Evil Eye, and the sixpence was said to bring you prosperity. But over time, the meanings of the somethings have shifted slightly. Today, according to The Knot, "something old" represents continuity; "something new" offers optimism for the future; "something borrowed" brings the couple good luck; and "something blue" stands for love, purity and fidelity.
Because the somethings are so broad, they can be just about anything you'd like to incorporate into your look. Something old and something borrowed may be some sort of family heirloom. Something new can be the dress itself, the shoes, or any accessory, and the something blue can be any blue detail, whether on your garter, a hint of blue on your bouquet, or even a statement jewelry piece. Here, five new brides reveal just how they incorporated this age-old tradition into their special day.