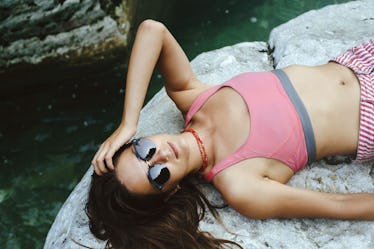 Summer Fridays Are Here & These 7 Plans Will Put You In A Sunny State Of Mind
During the sunniest season the year, you get a sweet little escape from the "real world." Your office begins to carry iced coffee on tap, and huge slices of melon, containers of strawberries, and other fresh fruit are on sale at your go-to grocery store. Your favorite restaurants open up their rooftops and outdoor seating areas, and have live music playing while you dig into the seasonal dishes. It's a beautiful taste of the sweet life, especially on the Fridays when your office may close around 1 p.m. instead of 5 p.m. You sign off of your email early and look up things to do on a summer Friday. Can I give you a few suggestions?
Because the hard truth is, you don't want to waste your time scrolling through social media and search engine results. You want to be outside, soaking in the sun beams, making s'mores, and laughing with your BFFs while the sky turns pink. You want to breathe in the fresh air, casually sip some freshly-made lemonade, and read the latest and greatest books on the balcony of your apartment. To you, that's paradise or what you'd like to call your happy place.
Some people would say that paradise is somewhere with waves and palm trees. But you see the beauty in ditching your responsibilities and enjoying where you are. Here are my seven suggestions for things to do on your next summer Friday. They'll definitely put you in a sunny state of mind.