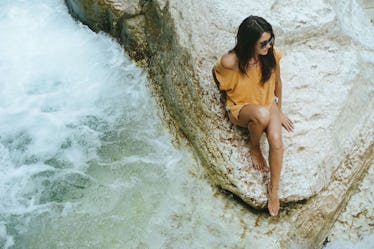 Do These 7 Spontaneous Things On Your Beach Vacay To Seas The Day
Every morning, you wake up to a notification on your phone that says, "Make the most of everything." The message is accompanied by a few emojis like the palm tree, the camera, and the group of yellow sparkles. It's the perfect reminder that you should embrace whatever happens during the day — including the moments when you spill your freshly-made smoothie. It's an affirmation or a mantra that stays in the back of your mind, and encourages you to say "yes" to adventures like going to new coffee shops, driving down to the shore, and splashing around in the waves. Can I suggest some spontaneous things to do at the beach this summer, that'll help you really seas the day? Sweet!
Because, to be honest, seizing the day can be easier said than done. It's like adding items to your bucket list with the intention of checking them off. You may write down "learn how to surf" or "take a tropical trip" in a note on your phone with so much excitement, wanderlust, and passion. But, you may ditch these ideas when you realize that you have to do a little research, purchase a plane ticket, and come up with an itinerary.
You may think, "Well, I'll get around to it," or ignore your inspiring notifications for five more minutes of sleep. Don't get into that habit this summer, and embrace these seven sponteanous things you can do at the beach with your BFFs instead. Got it? Good.