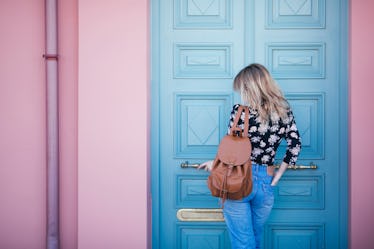 7 Pastel Places Across The Globe That Are Picture-Perfect For Spring
The world is feeling pretty in pastel. Spring has sprung, and everything is blooming — which means that we're living life in a lot more color. In winter, we have to hide away our wanderlust, or hop on a plane to find the most perfect hues. We jet-set to tropical places for the vibrant palm trees and pineapples, or live abroad for awhile where it's warmer and the paninis show off quite the palette. Yeah, our days can be pretty dull, but leave it to traveling to truly brighten up our bucket lists. These pastel places around the world will be picture-perfect for your adventures, and set the tone for spring.
It was Audrey Hepburn who said, "I believe in pink." Millennials nowadays have the same mindset, and lucky for us, our travels can really show us all sides of the spectrum. And without missing a single cup of Starbucks — may I add. (Seriously, they're everywhere!)
There are the saturated teals of the California coast, and the bright pops of yellow on the buildings of Barcelona. Surrounding yourself with beauty can be so simple, and it isn't always just buying a bunch of fresh flowers. Especially when the warm weather hits and you have even more energy, you have to travel.
We could stick to the same old neutrals, and just hang out in our comfort zones. But, our passports deserve some pastel stamps. So, you'll want to check out one of these seven places this spring.