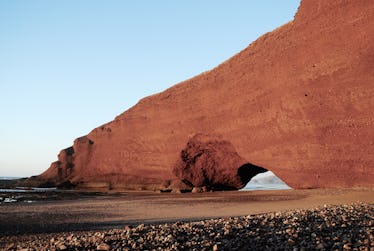 5 Red Sand Beaches That Are A Fire Addition To Your 20s Bucket List
If you're already in a tropical state of mind, and daydreaming of the sea and surf, then there's probably a whole list of beaches on your bucket list. You've started planning your Caribbean getaways, and wondering what other oceans around the world might be like. There's nothing quite as sweet as that bright blue water, except for all that pineapple and surrounding yourself with so much beauty. These red sand beaches will be a fire addition to your bucket list, and a must-see for while you're 20-something. You're so used to stepping into that pure white sand, but your passport is in serious need of some passion.
Beach, please. You could hit up the coast and soak in all of your usual waves. But, your wanderlust is so much more adventurous than that. Next semester you might be studying abroad, and you'll likely spend at least one weekend by the sea. The European beaches are unreal in their own way, but why settle for anything less than an adventure?
You're in your 20s, which means now more than ever you need to follow your heart, and of course, feet. Traveling has a way of showing us how much this world really has to offer, and you'll want to open your eyes to all the salty and sweet experiences. At one of these six red sand beaches, the sun won't be the only thing bringing the heat. So, get ready for some #fireflames.