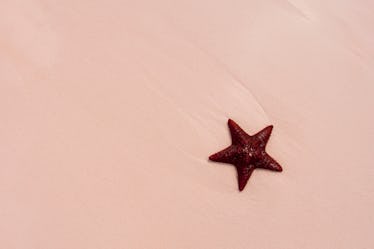 These Pink Sand Beaches Will Make Your Passport Pop With The Color Of Rosé
Shane Gross/Stocksy
Audrey Hepburn said it best: "I believe in pink." So far, your tropical getaways have most likely been absolutely gorgeous. The sun, surf, and being amongst the palms really haven't disappointed you one bit. For spring break, you might be heading down to the Caribbean with your besties and a beach towel. And when you studied abroad, you found so many coves tucked into European coastlines. It's safe to say you're experienced when it comes to summer vibes, but these pink sand beaches will upgrade your status as beach bum even more. It's so easy to doze off when you're soaking up the sun — but don't sleep on adding something so sweet to your bucket list.
Seriously, start thinking pink. You already packed the brightest bathing suits, and your sandals have those little tassels that are teal and tangerine orange. It's only right that you keep the vibrance going and find some colorful sand.
You're so tired of the usual surf and turf. Going where the water is warm and clear blue is always so ideal — but imagine dipping your toes in something different than those usual tan tones. Finding it hours later in your beach bag and messy bun will be so much better when you realize that it's much more radiant.
These five beaches will have you feeling more fun and flirty than ever before. Anything's really possible when you have your passport and some pink sand.