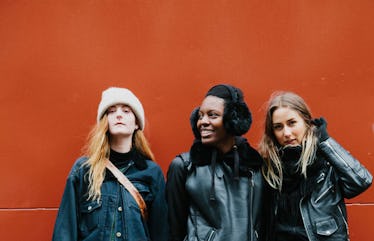 7 Fun Things To Do Thanksgiving Weekend When Reuniting With Your Hometown Bests
Heading home for the holidays typically means two things: home-cooked meals from your mom, and reuniting with some of your best friends. Honestly, between the two, you don't know what's better. You've been looking forward to that bowl of mashed potatoes made with your family's secret recipe since this past summer. But, you also haven't seen your hometown friends since the beginning of the semester — or maybe even this time last year. You know how the reunion is going to go. There will be lots of hugs and celebratory squeals, and ideas of fun things to do Thanksgiving weekend. Don't just let those ideas pass you by, though, because they're going to make for a weekend well-spent with your bests.
It's not too often that you all are in one place. Somebody in your crew is always traveling, while the other is working, or visiting family in another state. Some years, you don't even come home for the holidays, and others you're too busy catching up with your siblings to make any other plans. So, this time around, it's pretty special.
You and your hometown bests will spend some quality time together, and reminisce about the days of high school. Together, you're going to laugh at the embarrassing moments you've had, and the ones that are still to come. Amongst all the reuniting, plan to do one of these seven fun things this Thanksgiving weekend.