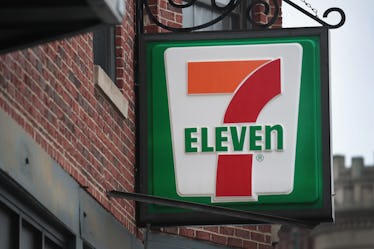 7-Eleven Just Turned Your Favorite Childhood Cereal Into A Slurpee
Scott Olson/Getty Images News/Getty Images
A new Slurpee flavor is serving up plenty of childhood nostalgia. That's right, 7-Eleven released a Cap'n Crunch Slurpee, and it'll definitely keep you cool this summer. According to the Twitterverse, the frozen concoction tastes eerily just like the cereal, and people are shook.
Now, the Slurpee scientists at 7-Eleven are always dreaming up new formulas for replicating our favorite treats in sugar-laced, liquid form. At this point, the chain's BYO Slurpee Cup Day should be a national holiday, and experiments like birthday cake and cotton candies Slurpees are basically delicious sugar comas in a cup. And once in a while, 7-Eleven will make their customers' mornings even sweeter by releasing Slurpee-flavored donuts. However, while I'm all for fun Slurpee brews (especially when they remind me of my favorite childhood snacks), 7-Eleven may have gone too far with their Cap'n Crunch Slurpee, if the Twitter reviews are anything to go by. According to people who've tried it, the new Slurpee tastes just like the Crunch Berries cereal "in a frozen, freaky way."
Instagram JunkFoodMom gave the new Cap'n Crunch "Crunch Berries" Slurpee a try on Friday, June 30, and she's still on the fence about the new flavor.
"First couple of slurps it does actually taste like the cereal.. in a frozen freaky way," she captioned a post of the new Slushee on Instagram. "But after those first slurps it's just weird.... not in a great way."
She revealed that another customer unfortunately had the same reaction. "There was a guy in front of me that bought one too and his words were 'unique, but I'll never buy it again,'" she wrote. "I think that sums up my opinion too."
Still, how often does a Cap'n Crunch Crunch Berry Slurpee come around? Almost never. Despite the mixed reviews, she suggests trying it out by purchasing a small size, because, "Ya gotta try it."
Other people were definitely not feeling the berrylicious new offering, and they took to social media to air their thoughts.
Even avid Cap'n Crunch Crunch Berries cereal fans said that 7-Eleven had gone too far this time, and that the Slurpee just didn't live up to the original treat.
On the other side of the spectrum, there were a few proud individuals who said that in spite of everything, they were big fans of the new sip. One user tweeted, "It's totally wrong but I don't want to be right. Or whatever." My feelings exactly.
It looks like the jury is still out on this one, and it's so hard to choose sides in this post #Cap'nCrunchGate world without trying out 7-Eleven's new slush. Like JunkFoodMom, I'm down to try anything at least once, especially if it is a Slurpee inspired by one of my favorite childhood cereals. But that's just me.
If Cap'n Crunch's Crunch Berries Slurpee doesn't sound like it's up your alley, I've got good news. Summer is the perfect time to cool off with a delicious sweet slush, and fast food chain Sonic just released the icy sips you need to satisfy all your sweet and sour desires. Trust me, Sonic's Pickle Juice Snow Cone Slush is so much better than it sounds, and the tangy beverage will keep your pickle juice cravings at bay right when BBQ season is in full swing. And until July 29, you can take advantage of the company's happy hour from 2-4 p.m. for half off your pickle Slush. It's a win-win. The point is, even if you're on the fence about Cap'n Crunch's Crunch Berries Slurpee, you've got other unique options to try out this summer. Or you could just play it safe and head to Taco Bell to try out their Frose Twisted Freeze, because you know that's 100 percent guaranteed to be delicious.