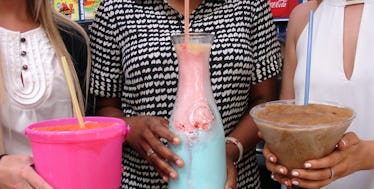 7-Eleven's BYO Slurpee Cup Day Is Almost Here, So Decide What You're Bringing
7-Eleven
Grab the nearest Slurpee-holding vessel you can find, because Bring Your Own Cup Day at 7-Eleven is nearly here. The two-day event is set to take place Friday, Aug. 18, and Saturday, Aug. 19 from 11 a.m. to 7 p.m -- and let me just say, you're going to want to participate. In case you missed the holiday last year, refresh your memory with these simple facts about the special day.
What You Can Bring
According to 7-Eleven, customers can bring a cup or "a container that can serve as a cup" to fill up with their favorite Slurpee flavor or flavors. (Reminder: They have a new cotton candy one!) I'd recommend something giant like an oversized martini glass or, you know, a pitcher.
Things To Remember
Regardless of your cup choice, just make sure it's food safe and water tight. It also needs to be able to fit under the machine's 10-inch display cut out, so don't go too tall.
How Much Does It Cost?
Unfortunately, there's a limit of one per person -- but the plus side is that your filled personal cup is only going to run you $1.50. All the more reason to bring the largest one possible, right?
If you can't decide what to bring, 7-Eleven is actually selling an Insta-worthy Chrome Dome Slurpee cup and lid that fit the bill.
7-Eleven's vice president of marketing and brand innovation, Laura Gordon, explained why the popular company hosts #BYOCupDay in a press release. She said,
Each year, Bring Your Own Cup Day gives our customers the freedom to show their creativity in our stores and on social media. This year, we decided to give our customers the chance to double their creative expression by extending the fun to 2 days, August 18 and 19.
The fun-filled event will take place at locations in the United States, Australia, Canada, Malaysia, and the Philippines. Once you've got your Slurpee in hand, snap a photo and be sure to share it on social media with the hashtag #BYOCupDay.