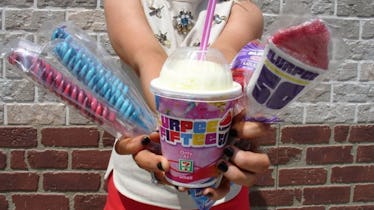 It's Free Slurpee Day At 7-Eleven -- And There's A Sweet New Flavor To Try
7-Eleven
Happy Slurpee Day!!
7-Eleven has turned the big 5-0 -- and it's celebrating with a delish new flavor you'd probably never guess.
Birthday cake. Um, YES PLEASE.
Apparently the frozen dream tastes like traditional cake and vanilla ice cream and we can't wait to get our hands on one today (candle not included). You can grab yours any time between 11 am and 7 pm while they last.
7-Eleven revealed the celebratory flavor on its website, which will hurt your eyes and melt your brain. They wrote, "Happy birthday to us, happy birthday to us, happy Slurpee Fiftee to Slurpeeeeeee. Happy birthday to us! This limited-time flavor is as delicious as it is festive. Try it today!"
Everyone's excited:
It's my favorite day of the year..free slurpee day — Jessie Viands (@JessieViands) July 11, 2016
And if this news has already brightened your morning, then allow us to make your entire day -- BECAUSE IT'S ALSO NATIONAL MOJITO DAY, PEOPLE. What a time we live in.
Well, what are you waiting for? Go forth and seek out chilled beverages. Today is about you.