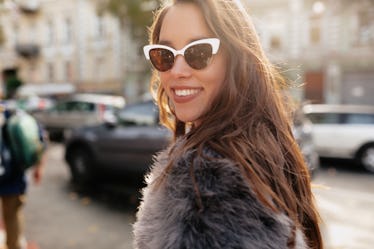 7 Dating Mantras To Recite If You're Single In 2020 & Looking For Love
Shutterstock
I'm calling it, fam: 2020 is the year of love. That doesn't mean everyone's guaranteed to find it in exactly the form they're expecting, of course. But maybe you'll start looking for love in unexpected places, learn from the love that doesn't work out, and most importantly, start loving yourself even harder than ever before. And if you need a little help along the way, there are some dating mantras to recite if you're single that can actually help you to find love by putting you in a more confident mindset.
If you're a newbie to affirmations, here's what you need to know. As you may or may not know, negative self-talk can be seriously sabotaging. Because the more you say those harmful things to yourself, the more you believe them. In the same way, declaring positive mantras on a regular basis can reshape those problematic beliefs into healthier ones. And as you start to embrace those new thoughts, you may find that approach romance with increased optimism and self-assurance. Goodness knows you can't have enough of either of those things in today's dating world.
Consider saying your mantras out loud in the mirror because seeing and hearing the words can often make them resonate even more powerfully. You could also write or type them onto a piece of paper that you display in a visible place where you're likely to see them daily.
But first, you'll need to collect the right mantras that ring true for you. Here's to a year filled with heart-eye emojis — and here are a handful of mantras to get you started.