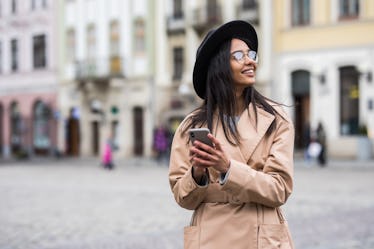 How To Spice Up Your Dating App Profile In 2020, Based On Your Zodiac Sign
Shutterstock
Perhaps one of the most relatable scenes in the iconic 2009 masterpiece He's Just Not That Into You is when Drew Barrymore says that changing your dating app profile is the modern version of getting your hair done to look cute for your crush. (Although, I predict blowouts will still be hot in 2020). Whether you're thinking about upping your photos or toying over a new bio, the change to make to your dating app profile in 2020 may be easier than you think.
Whether you're getting back into the dating pool after ending a long-term thing or you're enjoying being single and sensational, giving your dating app profile a little tuneup can be a great way to get some new matches. Remember: You never need to hide or conceal who you are, and you certainly never need to lie about your interests or passions. In other words, If you'd rather drink wine on a roof than go on a day-long hike, maybe don't say you're a "big nature lover." However, giving your profile a little sprucing up can make you feel better IRL.
If you need some dating app inspo, here's how to spice up your profile, based on your zodiac sign.