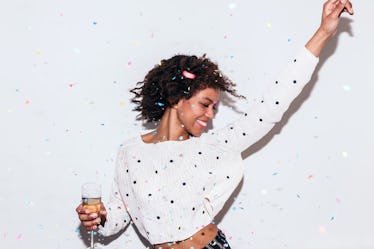 5 Mantras To Repeat In Celebration Of Everything Single Life Has To Offer
I'm proud to say I know a thing or two about being single. Most of my adult life, I've been working jobs that don't keep me on a consistent schedule or routine, and my ever-changing life has made it a bit challenging to meet any potential boyfriends. Instead, I've become a pro at going it alone, and I have to admit, I've grown to really love it. One of my favorite things to do is repeat mantras about single life to remind myself I'm pretty freaking lucky to be crushing life out on my own.
While being single is amazing most of the time, of course there are days when I feel down about it. Many of my friends have been coupled up for years, and sometimes I wish I had someone to snuggle up with at the end of a stressful day. But that's why positive self-talk can be so useful! When you're fed up with dating and just wish you could meet someone already, take a deep breath and repeat these sayings to remind yourself of your worth. After all, who better to show yourself some love than you? Single life can be just as rich and fulfilling as life in a relationship — it's just up to you to take advantage of all it has to offer.