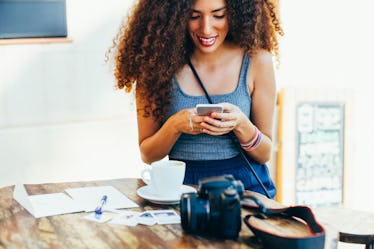 How To Use Social Media To Plan Your Next Unforgettable Trip
It's 2018, and social media is the go-to resource for trip planning. Travel books and guides will always be useful, but they can be limiting when it comes to gathering travel information that will cater to your specific needs. Have you ever discovered a new destination on a Pinning-spree, or a really unique hotel while scrolling through Instagram? Social media might give you serious FOMO whenever your entire friends list is away on vacation, but at least you'll know where to go when you finally take your dream trip. Here's how to use social media to plan a trip you'll never forget.
Traveling can be the most exciting way to treat yo' self! It affords the opportunity to visit awe-inspiring places and meet people from all over the world. You will likely have a blast, but first, you've gotta fine-tune all of the details. Let's be real: Travel planning can be stressful AF, especially when you must coordinate with others. It involves spending hours researching flights, restaurants, neighborhoods, hotels, tours, activities, and cultural information. The process isn't always easy, but it's definitely worth the time. Fortunately, social media makes vacation planning easier. So, grab your phone and start scrolling. These tips will help you plan the best trip ever.