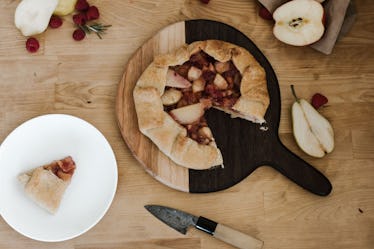 6 Ways To Respond To Relationship Questions At Thanksgiving That Your Relatives Will Gobble Up
Thanksgiving is a total family holiday, which can be a good thing or a bad thing, depending on who you're dealing with. As many families are notoriously nosy, your relatives might start asking you about your dating life, and more specifically, why you don't currently have a boyfriend or girlfriend. Annoying, right? When you head over to see your loved ones on Turkey Day, you might want to come prepared with some ways to respond to relationship questions in your back pocket, for when the wine starts flowing and the conversation starts getting awkward.
Of course, your initial instinct might be to tell everyone to back off and mind their own beeswax when they ask you about your dating life. But in the spirit of not making things more uncomfortable than they need to be, and keeping the peace at least while the pie is served, you might be able to respond in a more diplomatic way. So what exactly should you say when people start asking things like, "Are you still single?" "Have you found someone special yet?" "When do we get to meet them?" or even, "When are you getting married?" Before you roll your eyes — take a breath, pass the gravy, and try to answer in a cool and collected manner.
Here are six ways to respond to relationship questions from your family at Thanksgiving this year that are sure to keep the peace.