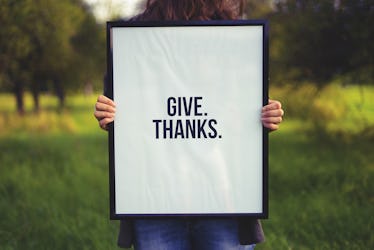 People Tweeting What They're Most #Thankful For This Thanksgiving Will Warm Your Heart
When it comes down to your turn to say what you're most thankful for at the Thanksgiving dinner table, it shouldn't be too difficult to think of at least one thing to say. I'm sure a million things come to mind, especially when looking at the family or friends you have chosen to spend the day with. Even just hearing what everyone else has to be thankful for will totally melt your heart. So, if you are prone to crying like me, be sure to grab a tissue, because people tweeting they're most thankful for this Turkey Day will warm your heart.
Even some celebrities are joining in on the grateful party, speaking out on what they're blessed to have — though anyone can join in the conversation with their very own #thankful tweet. Some people are thankful for the people in their life, the food before them, and even their sweet dogs. I know I'm specifically thankful for the Thanksgiving meal, but that could also be my stomach telling me that's the most important thing right now. Either way, take a moment and remember everything that puts a smile on your face today. It's a day all about applauding those little miracles that make life so much better.