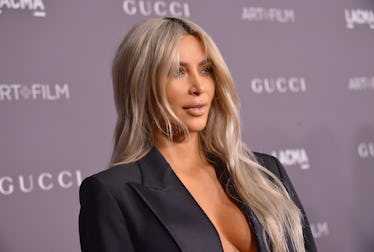 Here's How Kim Kardashian, Miley Cyrus, The POTUS & More Celebs Celebrated Turkey Day
Charley Gallay/Getty Images Entertainment/Getty Images
Thanksgiving has finally arrived, and that means a plethora of thankful posts on all things social media. Of course, celebrities are voicing their thanks and we are here to eat that sh*t up. Even while you're knee deep in your own Turkey Day festivities, you can't help but wonder about celebrities celebrating Thanksgiving 2017.
Celebrities are on the social scene all of the time, even against their will. Because of that, we sort of feel privy to know what they are doing 24/7, especially around the holidays. Wait, they eat what we eat? And they are thankful for many of the same things? Each concept is mind boggling to us, because celebrities are certainly thought of as a different kind of human. You know, the successful, famous, and has an incredibly huge following on Twitter type.
On this day of thanks, it's interesting to see how certain celebs decided to celebrate. I mean, we can hardly imagine how much pressure is on these peeps, who have their every move magnified on the regular. It's nice to see them in their element and the internet thrives off of witnessing them in their zone. Here's how a few celebs decided to express their turkey turn up this year.