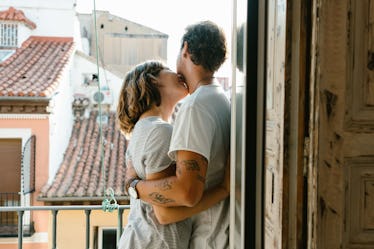 6 Things People In Relationships Are Tired Of Hearing, So Please Stop
Cuffing season may be over, but contrary to popular belief, you and your boo are still thriving. You're one of the lucky couples who made it out, and the two of you have never been happier. Your friends are happy for you, but sometimes they just can't get the words out properly, and some things they say could come across the wrong way. Whether intentional or not, there are just certain things not to say to people in relationships, especially at the beginning.
While it's easy to think that people in relationships have no worries (*cue "Hakuna Matata"*) because they have someone by their side, it's not a fair assumption. Everyone has their own set of issues, single or not, and frankly, when you're in a relationship, the ups and downs can be overwhelming from time to time.
If you're in a relationship and your friends say any of these things to you, don't overthink it or even take it to heart. They're not trying to be cruel or judgey, they're just trying to share their opinions with you, like they do about the pair of jeans you've had since the sixth grade or your new tiny sunglasses. (We can't all rock them like Ryan Reynolds.) For those who are single, this isn't an attack directed at you — it's just a heads up that some of the things you say may not come across the way you intend them to. So maybe, think twice before saying some of the following things.